Upmarket Landscaping & Decking Services in Sydney

No matter how beautiful your house is, without a proper garden landscape, everything will remain incomplete. Gardens play an amazing role. They are soothing to the eye, calming by nature, and offer a place of Zen for the start, middle, and end of the day.
For homeowners and office premises, it remains essential to obtain the best landscaping design for an inviting environment. If you are looking for professionals to offer upmarket landscaping services such as revamping and improving the garden area, then we are here. Artscape Landscapes is a reputed, reliable name in landscaping, dedicated to completely transforming your property with how your garden looks.
About Artscape Landscapes
Artscape Landscapes provide upmarket landscaping services in Sydney. We can help you with all your landscaping needs, whether you are looking to install retaining walls, pool surrounds, paving, patios, and ponds.
Additionally, our team of experienced gardeners provides all the essential services that go beyond traditional landscaping, to give a unique look to your gardens.
Our Services
Like many other big names in the field of upmarket landscaping and decking services providers in Sydney, we have evolved over the years into a name that is well recognised in the landscaping and decking industry. We started with simple beginnings, only focussing on a few select landscaping services and then continued to expand our offerings as our expertise, experience, and knowledge to create new things in the garden has grown. We are always 100% dedicated to the satisfaction of our clients and work from the beginning to understand everything that they are looking to achieve before we design, plan, and begin.
It is this approach that has helped us cater a completely new landscape to clients, with a harmonious theme and look.
We Offer a wide range of services at Artscape Landscapes.
The list includes the following:
Landscape Design & Construction
Landscape Management
Horticulture, Arborist, Sustainable Garden Specialist
Irrigation, Paving, Tiling & Concreting
Stonemasonry, Bricklaying & Rendering
Fencing & Carpentry
Wholesale Nursery
Commercial Landscaping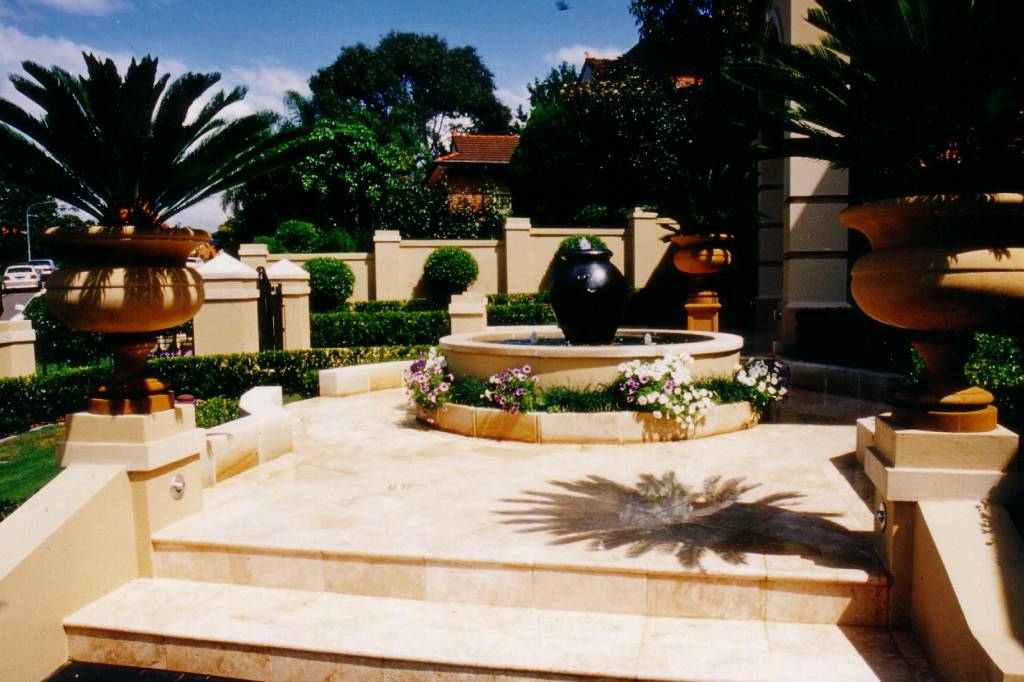 Upmarket Landscaping Services
Landscaping services for upmarket and affluent properties span a range of requirements. Although, while there are many styles and types of designs of garden landscapes existing today, our team has developed a deep understanding of them all. We have worked across an array of different gardens and landscapes, for homes, offices, Government areas and other commercial buildings. From working on the ground and creating unique bespoke designs, we have established ourselves as a reputable landscaper for upmarket landscaping services.
With almost four decades of experience, you can count on our services to look after, adjust, or recreate the garden on your upmarket property. For stunningly breathtaking results.
Upmarket Decking Services
There is almost nothing more beautiful in the backyard of your property than the good old Australian deck. Our upmarket decking services has grown to offer a range of distinctive styles in decking, across many different native and European species in hardwood and softwood timber. We understand the difference that a high-quality deck can have, from making everyone feel more at home as well as raising the value of the property. Upmarket decking adds to the natural beauty of and existing landscaping with its warm and natural touch. Our tradesmen understand this well, therefore we always work to provide you with a lasting welcome canvas for all your afternoon and evening relaxing in our upmarket decking services.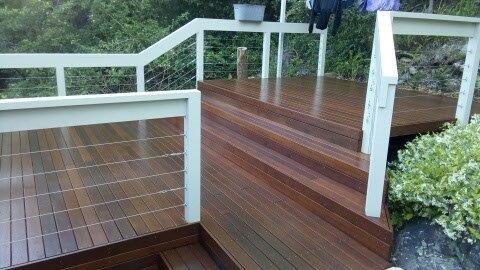 Our Tried & Tested Process
Since the first year in 1987, when we obtained our structural landscaping licence, we have been very particular regarding what we offer. Apart from various kinds of upmarket landscaping services and decking, we ensure that the people who visit our centre can get a complete solution to their requirements. Therefore, we have evolved ourselves accordingly.
We offer people a rough concept plan where we show them how things are going to look. Then, upon confirmation, we work on the detailed concept plan where each professional at Artscape Landscapes provides a concise and vivid outline of the proposed plan. This would also include the work methodology that we adopt and materials which will be used for the landscaping and/or decking.
We offer customised services, with the latest tools and equipment to assist us. For example, we have technology that will help you visualise your garden and know how it will look after completion before any of the work begins.
Consultancy Services for your Decking & Landscaping
In addition to the planning and designing of your outdoor, we have a team of expert consultants who leave no stone unturned in offering you guidance regarding what will look the best for your space. Therefore, before initiating the decking and landscaping services in Sydney-based property, the experts will provide you with creative ideas of different landscaping options. Furthermore, the professional would also offer you the price quotation to make sure that you select the one that best suits your budget and requirements.
The following are some of the things that we do in our work for upmarket landscaping and decking:
Preparing the plans and sketches based on the area identification.
Assimilation of ideas and inputs for ensuring a custom-made deck and landscape.
Organising question hours with people in case of any doubt
CONCEPT PLAN – We Make your OUTDOOR SPLENDID
We have been in the industry for over three decades and have left no stone unturned in all these years when it comes to catering top-notch upmarket landscaping services and upmarket decking services in Sydney. We have always followed a streamlined process for project completion. Our concept plan is the roadmap of how your outdoors would look after completion. It will contain all the detailing of the decking and landscaping layout, and it is built structure after the renovation or restructuring.
Why Choose Us?
We are on the top of the list for landscaping and decking services in Sydney. The main reasons being:
Budgeted upmarket landscaping services and upmarket decking services.
Customised solution for landscaping
Paving – driveways, and paths
Water-wise gardening solutions that include design and installation
Experienced team of consultants and designers for landscaping and decking
Successful, on-time delivery of projects irrespective of the complexity of the project
Our love for landscaping: Construction and decking comes from the craze to create beautiful outdoor space for commercial and residential properties. Get in touch with us to know more about what is there for you in landscaping and decking services.
WOULD YOU LIKE LANDSCAPING IDEAS?
Get in touch with our experts on 0437 809 169. They will provide you with the best ideas and designs for your landscaping and upmarket decking needs. Our experts can sketch out a few options or help you with your custom-made design ideas for your dream landscaping. Additionally, on visiting the site our experts will provide you with a free quote and price estimate for your personalised garden design.
Would you like Landscaping Ideas?
Are you wanting to improve your landscape, but not sure what to do? We can help you make a start & sketch out a few options, provide a price estimate, then create a personalised garden design, with a quote.
Artscape Landscapes works everywhere in Sydney, building beautiful gardens and architectural landscapes. We build and maintain commercial, homeowner and rental property gardens – always fresh and great looking!
Are building a new house? Renovating? Perhaps a new pool or driveway? Or that outdoor kitchen or decking you've always dreamt of. Rick Field can guide you through the process, from design to completed landscape.
Call Artscape today!
We strive to deliver a level of service that exceeds the expectations of our customers. If you have any questions about our products or services, please do not hesitate to contact us